A travers un work in progress, je souhaite donner à voir une expression plasticienne, non centrée sur une quelconque technicité, mais sur l'intérêt que produisent sur moi certains matériaux philosophiques - sociologiques - scientifiques, sonores et olfactifs.
- " NOUS
Très tôt dans cette pratique, un flux s'installe, définissant une trame - l'élaboration d'un process - d'un langage - loin de toute influence.
Au quotidien, j'expérimente et envisage par de curieux "élans acrobatiques", une "multiplicité de possibles" : dessin - texte/chorégraphie mentale - performance graphique - scénographie - langage bousculé - architecture improbable - micro-pièce - vidéo énigmatique...
- NE
Univers hybride où les frontières disparaissent.
Danses immobiles - mots-matériaux - gestuelles - sens/non-sens.
Matérialité du vide, strates, sèves poétiques, limites, rhizomes, liens, flux, trait/trace, ligne, espaces infinis, paradoxes...
Contraintes conceptuelles associées à des dispositifs scénographiques hybrides (lectures extérieures, lumières, sons, chronométrages, oeuvres éphémères, productions numériques...)
Visibilité dans la sphère privée : lieu de vie/de travail et/ou/exposition chez l'habitant - jardin privé - forêt - lieux improbables - rue - réseaux sociaux
- SOMMES
En découle, une arborescence de questionnements sur : les conditions de monstration - la pérennité de ce que l'on donne à voir - l'appartenance - la perception de l'espace/temps, sa gestion - la notion d'échelle - le réel - l'intime - le statut de l'artiste/son contexte de vie/son rapport à la notion d'oeuvre - son inscription dans le temps...

L'impermanence.
Chaque pièce fonctionne dans un processus spécifique, et le contenu évolue au contact de productions satellites.
- JAMAIS
Cette co-habitation plastique ouvre, sans cesse, de nouveaux champs d'expérimentations, des perspectives d'interrogations, de perceptions.
Rien n'est figé et tout s'inscrit dans l'idée du mouvement, du déroulement permanent. Toutes ces stratifications de données sont revisitées, même des années plus tard.
- SILENCE"
La forme évolue sans cesse. Chaque expérience de ce process offre une nouvelle perception de son essence, de son vivant.
- Sylou LE RHUN -

On a daily basis, I experiment and consider with curious "acrobatic impulses", a "multiplicity of possibilities": drawing, text / mental choreography, graphic performance, language scenography,"improbable architecture", micro-piece, enigmatic video ...

- WE

There is talk in this universe; immobile dances, words like materials, gestures, sense / no sense, impalpable, void materiality, stratify, poetry ,demarcations of zones , limits, rhyzomes, links, flows, trace, line, infinite spaces, paradox ...

This observance generates a daily visual production, hybrid:

Conceptual constraints associated with scenographic devices (outdoor readings, lights, sounds, chonométrages, ephemeral works, binary productions ...) visibility in the private sphere: place of life / work and / or / exhibition at the inhabitant - private garden - forest - unlikely places - street, social networks ...

- ARE

As a result, a tree of questions about: the conditions of demonstration - the perenniality of what we give to see - the belonging - the perception of space / time, its management - the notion of scale - the real - the intimate - the status of the artist / his context of life / his relationship to the concept of work - his inscription in time ...

Each piece operates in a specific process, and the content evolves in contact with satellite productions.

- NEVER



This plastic co-habitation constantly opens up new fields of perception and reflection.

Nothing is fixed and everything is part of the idea of ​​movement, of permanent progress. All these data stratifications are revisited, even years later.

- SILENCE "

The form evolves, it reveals a new perception of its essence, while alive.
Sylou LE RHUN
S2 / crayon de couleur - papier Canson - 60x42cm / LE RHUN SYLOU /2019
S3 / crayon de couleur - papier Canson - 60x42cm / LE RHUN SYLOU /2019
S5 / crayon de couleur - papier Canson - 60x42cm / LE RHUN SYLOU /2019
S6 / crayon de couleur - papier Canson - 60x42cm / LE RHUN SYLOU /2019
SCARLET 070 / 50 dessins - crayon de couleur - papier - 105 x 148cm / LE RHUN SYLOU 2019
détail
YELLOW POINT 4 / crayon de couleur - pastille jaune - 100x140 / LE RHUN SYLOU / 2019
détail
Autant en emporte le temps
et fut
autant
en emporte le geste
Dans cette courbure de temps, une torsion de l'esprit où le geste sanglé est précipité dans un bain de concentration intense.
Contracture, dans ce paradoxe de fluidité.
L'espace est habité, le temps de son passage sur cette surface
face en pleine face, pouls contre pouls.
1 - œ̃
2 - dø
3 - tRwɑ
4 - katR
5 - sɛ̃k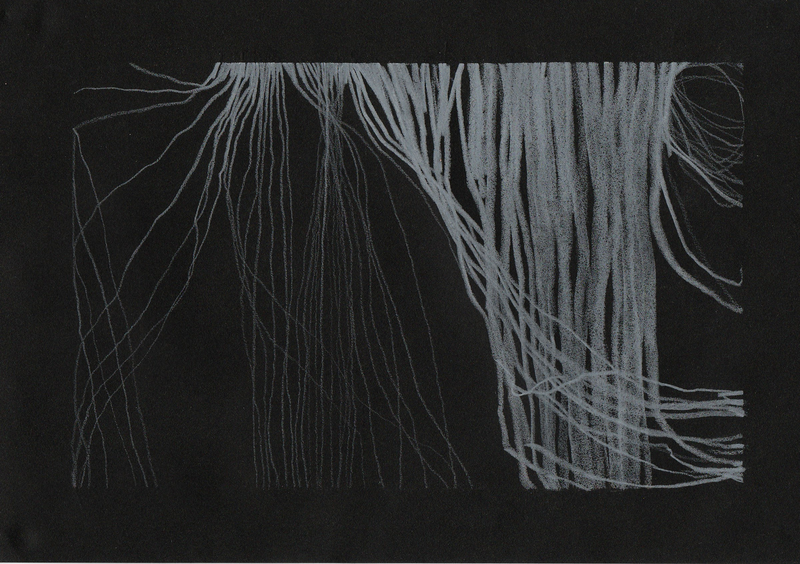 6 - sis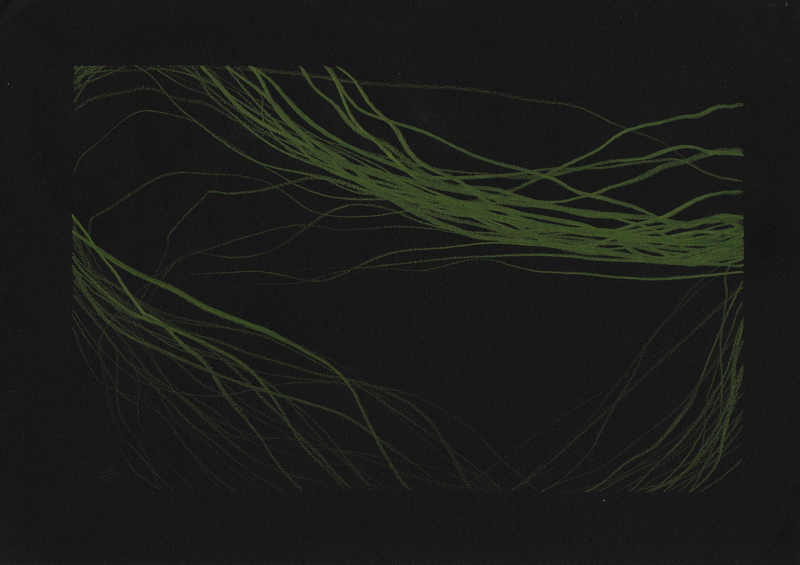 7 - sεt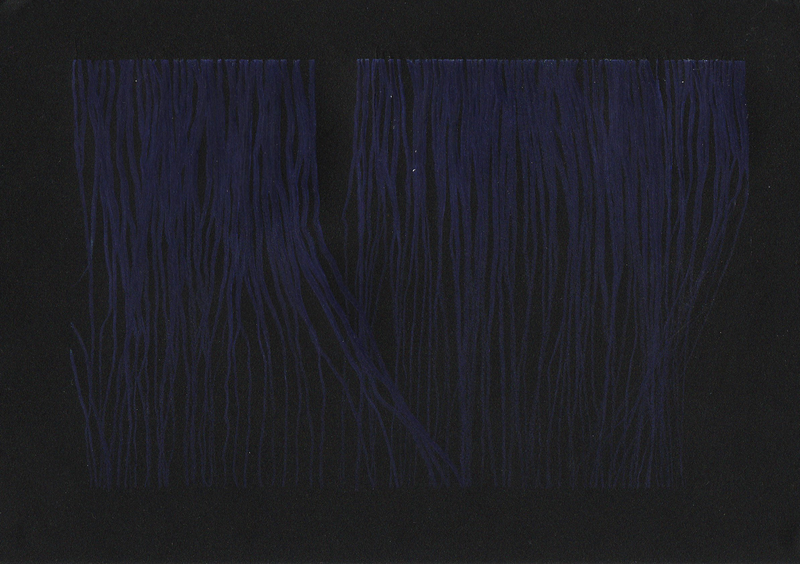 8 - 'ɥit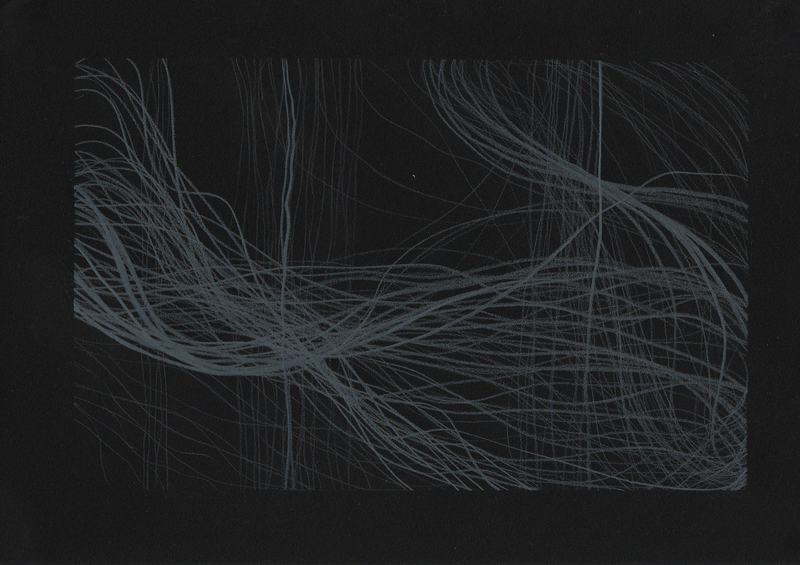 9 - nœf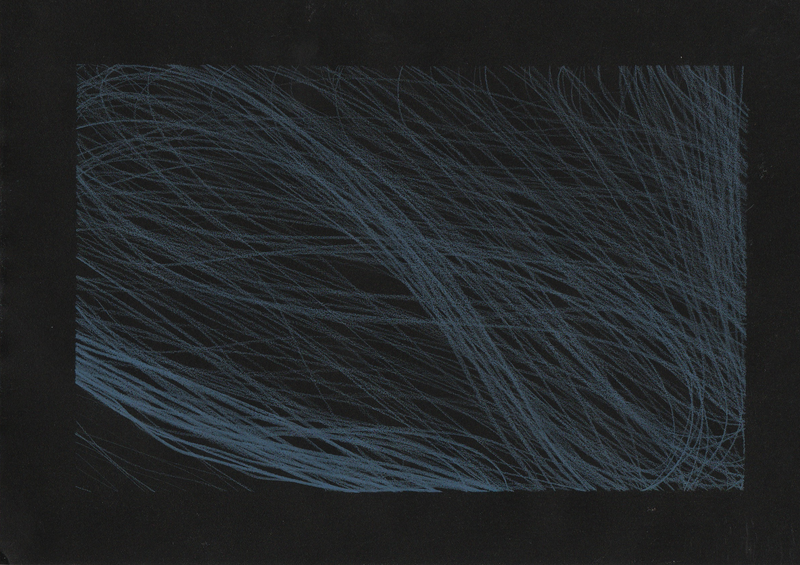 10 - dis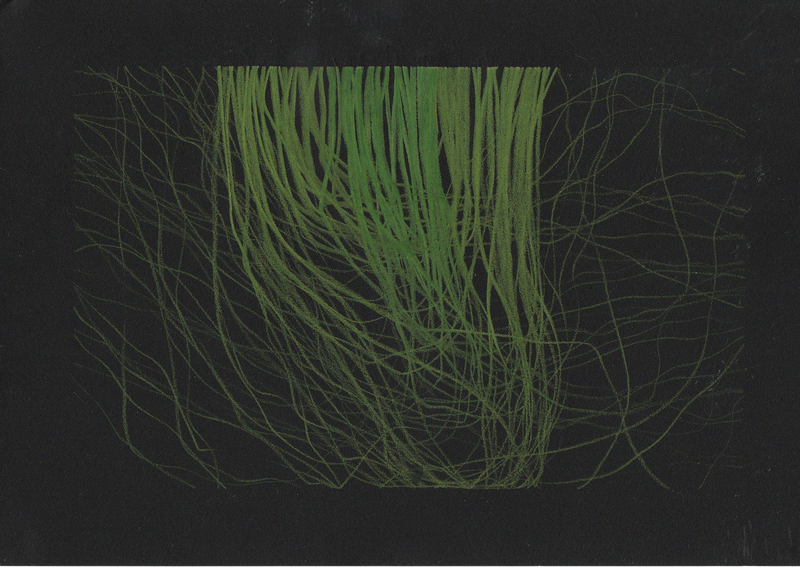 11 - 'ɔ̃z
12 - duz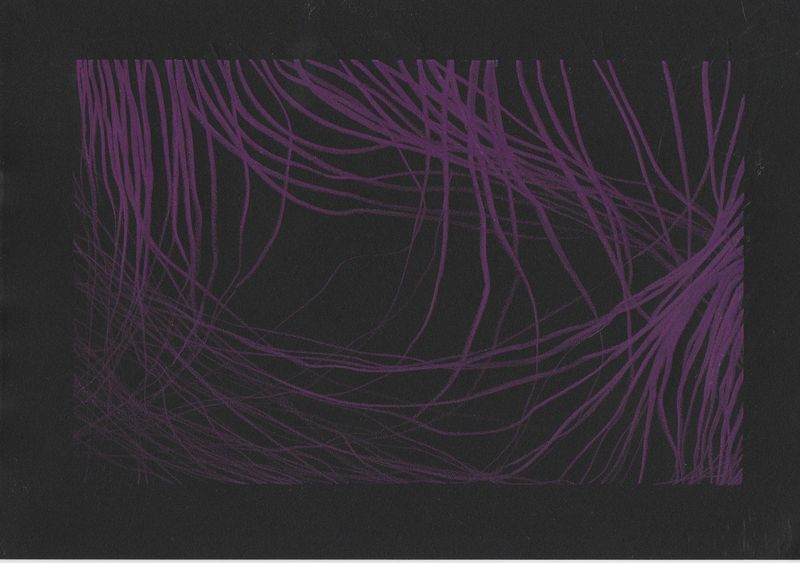 13 - tRεz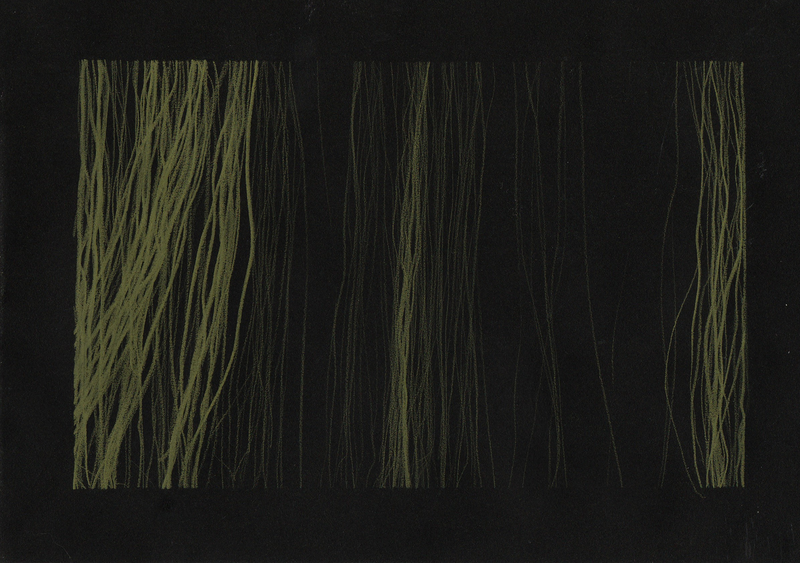 14 - katɔRz
15 - kɛ̃sz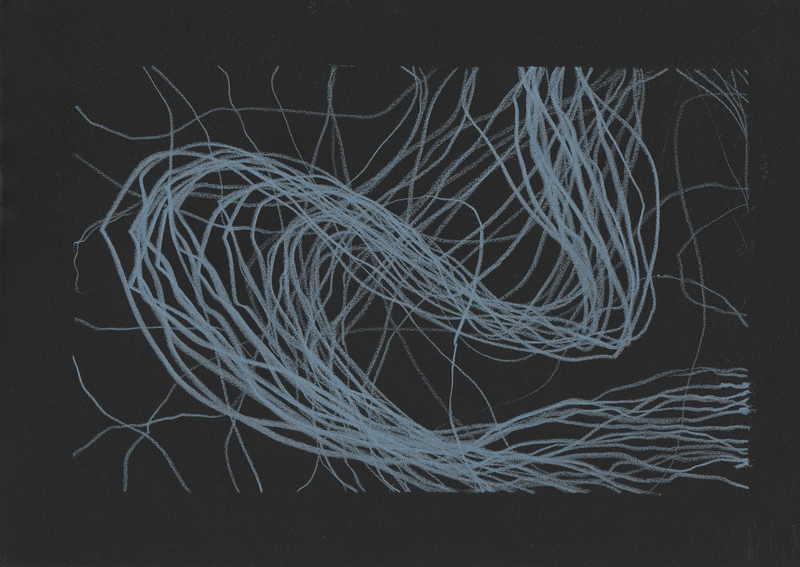 16 - sεz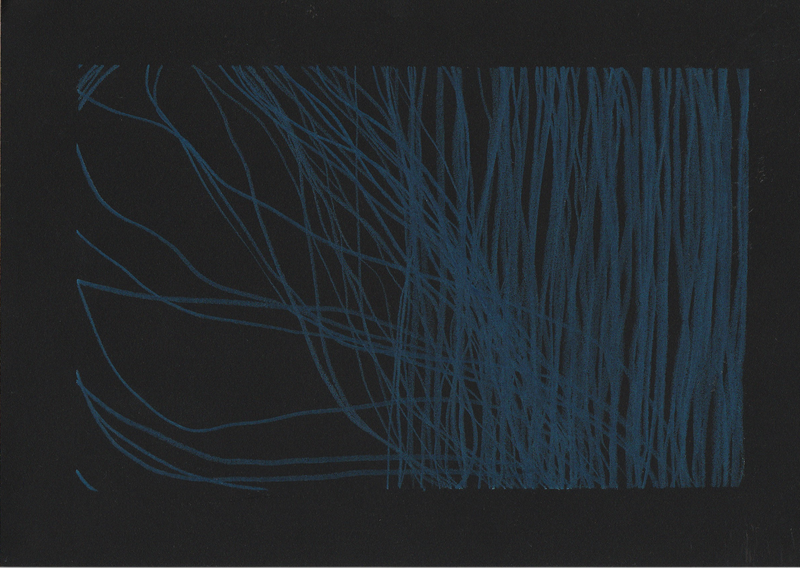 17 - dis sεt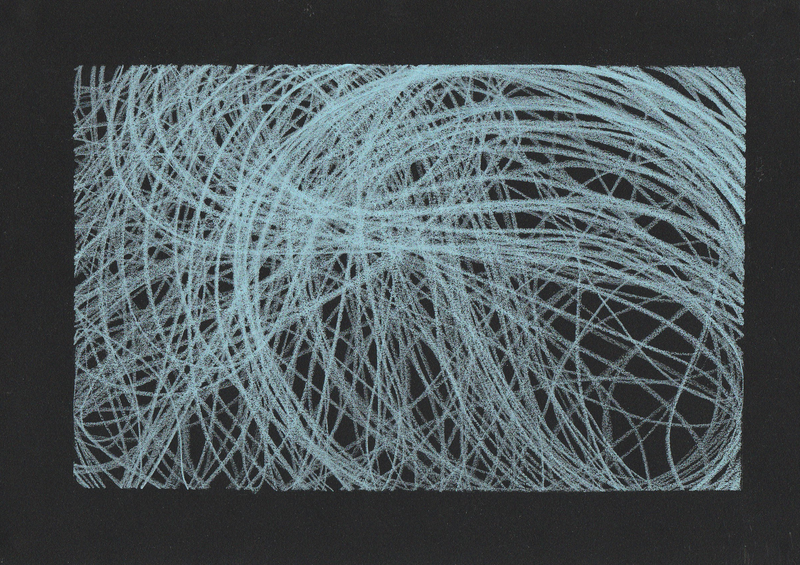 18 - disɥit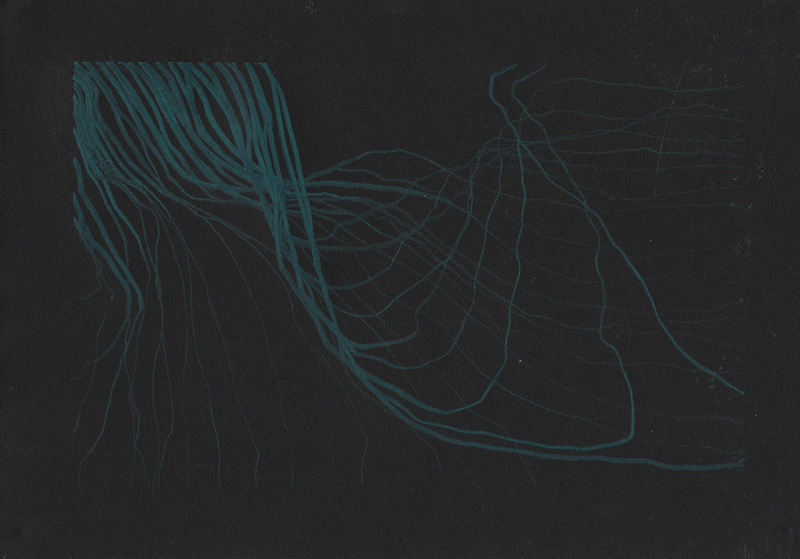 19 - diznœf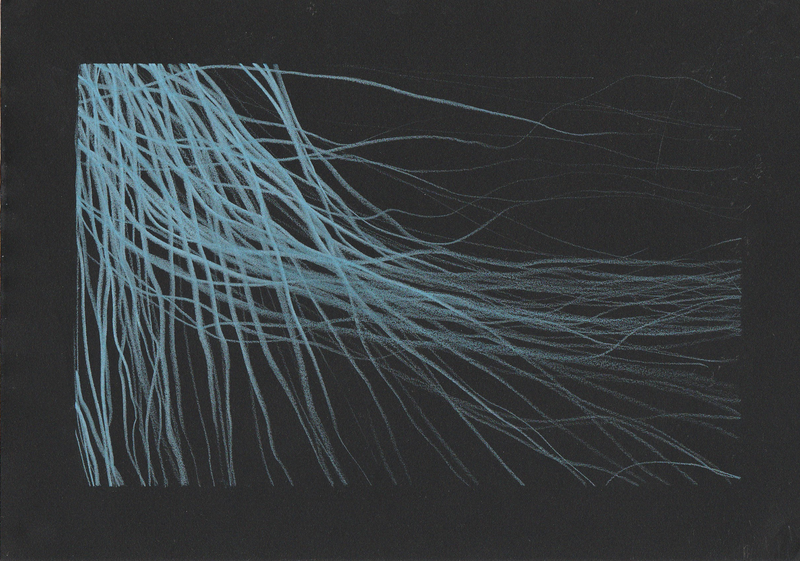 20 - vɛ̃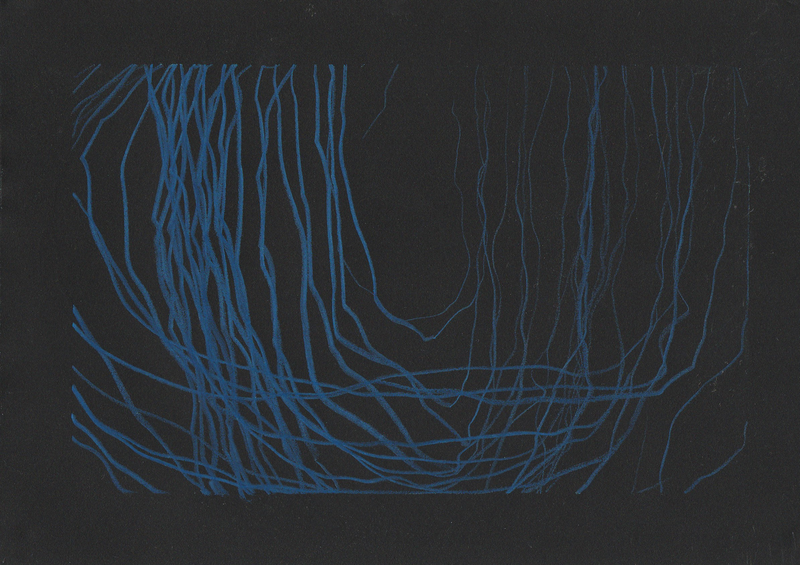 21 - vɛ̃ e œ̃
22 - vɛ̃ dø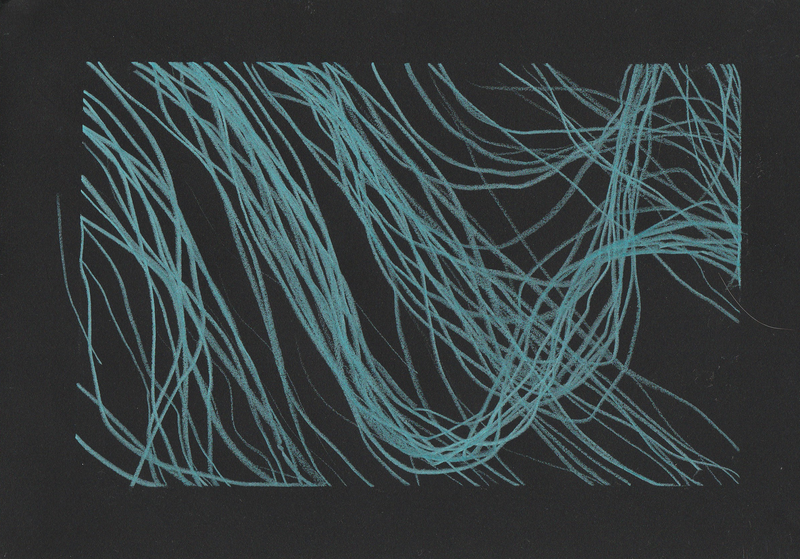 23 - vɛ̃ tRwɑ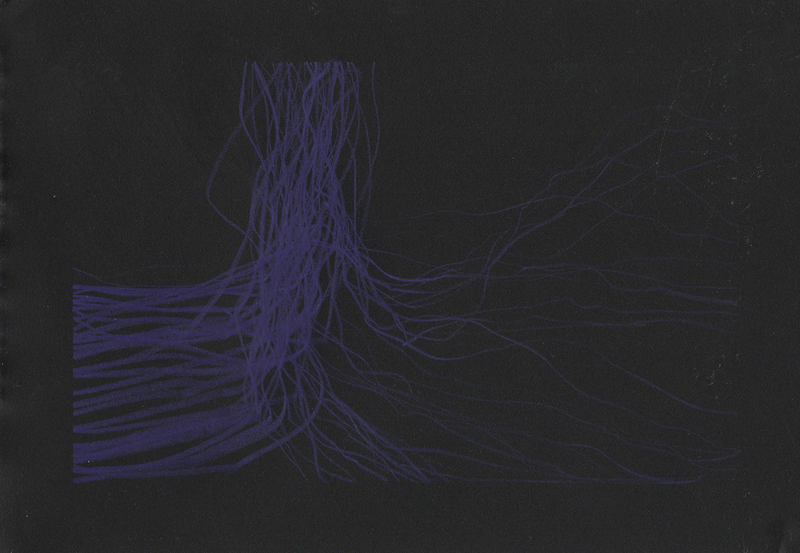 24 - vɛ̃ katR
25 - vɛ̃ sɛ̃k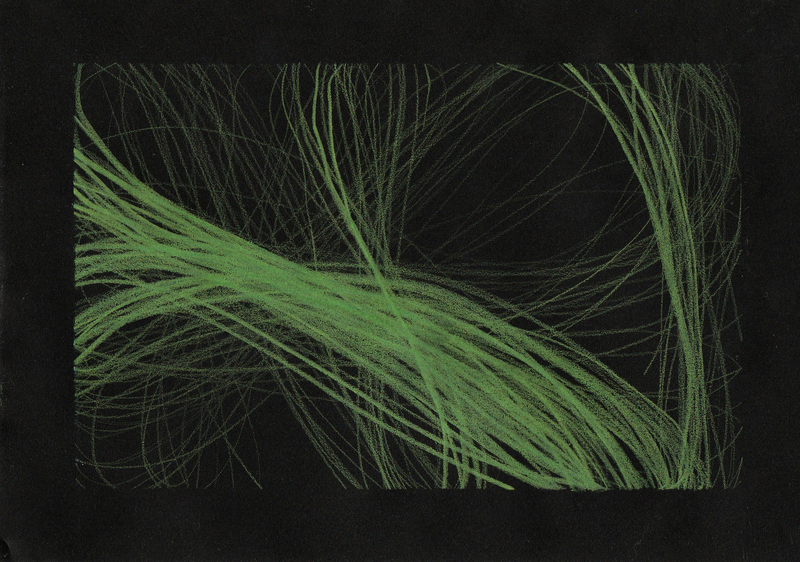 26 - vɛ̃ sis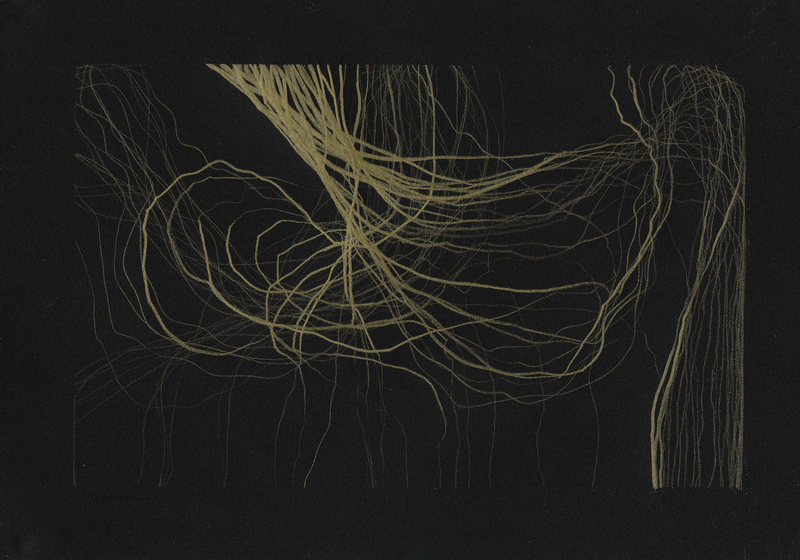 27 - vɛ̃ sεt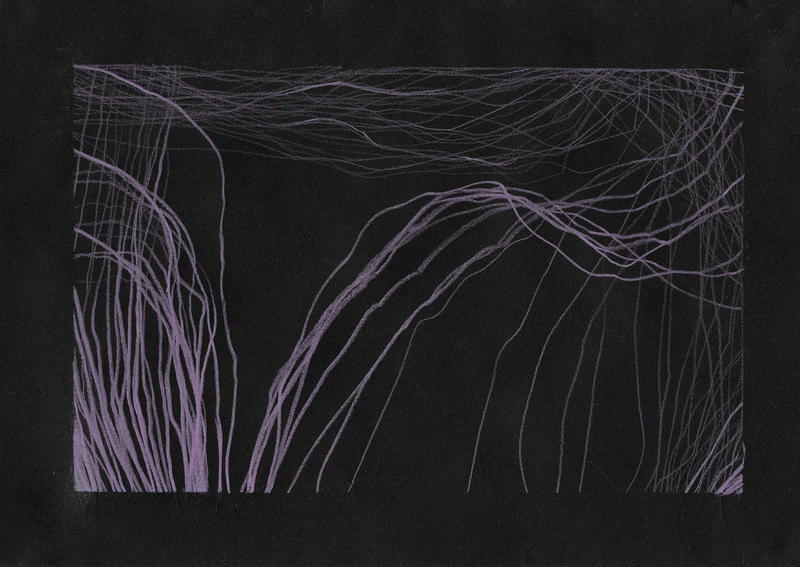 28 - vɛ̃ ɥit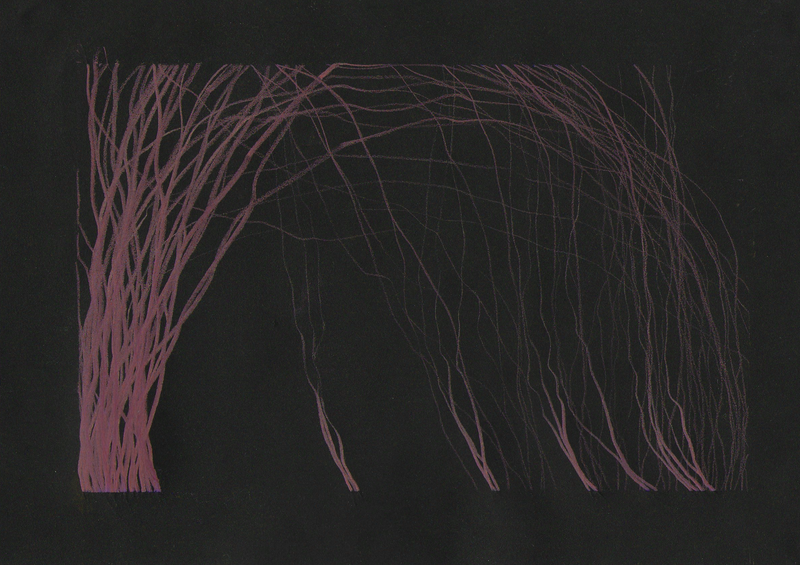 29 - vɛ̃ nœf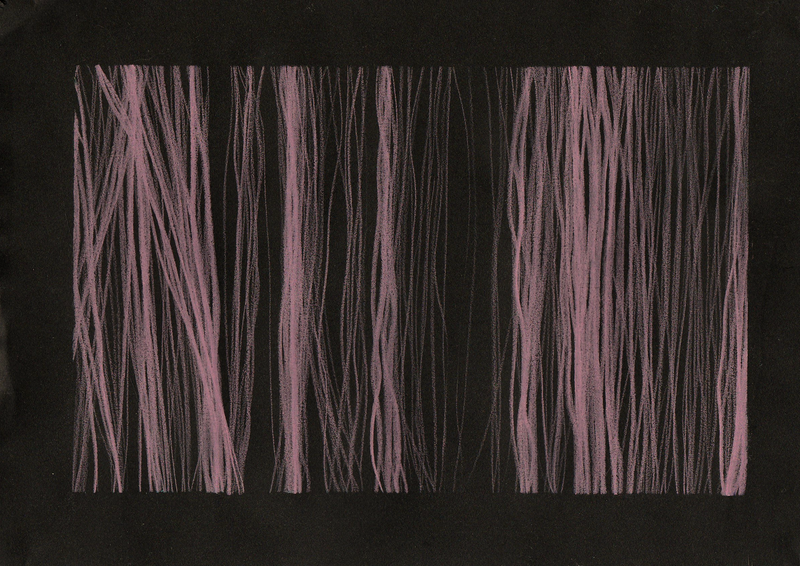 30 - tRɑ̃t
31 - tRɑ̃t e œ̃
32 - tRɑ̃t dø
33 - tRɑ̃t tRwɑ
34 - tRɑ̃t katR
35 - tRɑ̃t sɛ̃k
36 - tRɑ̃t sis
37- tRɑ̃t sεt
38 - tRɑ̃t 'ɥit
39 - tRɑ̃t nœf
40 - kaRɑ̃t
10 août 2018
L'ATELIER du 5 / septembre 2018 : oeuvres présentées à la Biennale internationnale d'art contemporain de Uozu/TOYAMA, JAPON, Chantenay-St Anne, sept/18
12 avril 2018
2018 / CE QUI EST EST ET... I / 100x70cm / paper - color pencil - cut - black cotton thread - braille language
le support est considéré comme espace scénique - Il s'agit d'un acte chorégraphié -
Juste une ligne étirée dans le temps, qui se bute aux limites d'une surface imposée, créant un parcours linéaire de superpositions.

le corps n'est pas dans l'espace scénique, mais face à lui, dans une relation frontale dominante, créant dans cette posture une autre relation à l'espace, à l'échelle, au corps et à l'échange.

Une danse, presque statique, l'unique partie supérieure du corps, agit.

Ne reste que la matérialité de cette danse, son espace/temps.
the support is considered scenic space - It is a choreographed act -
Just a line stretched in time, which meets the limit of an imposed surface, creating a linear course of overlays.

the body is not in the scenic space, but in front of it, in a dominant frontal relation, creating in this posture another relation to the space, the scale, the body and the exchange.

A dance, almost static, alone, the upper part of the body acts.

Only the materiality of this dance, its space / time remains.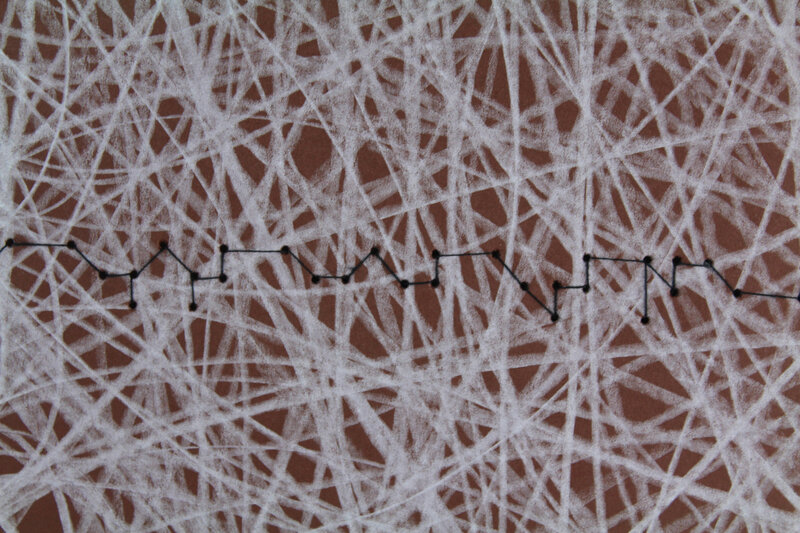 2018 / CE QUI EST EST ET... II / 76x56cm / paper - cut - braille language
"ce qui est est et ...II" est en connexion avec "ce qui est est et...I" il s'agit d'un autre espace,dans une phrase* sans fin, qui mène au vertige du sens, par sa répétition. On pourrai l'associer à la figure du noeud de Moëbus.
*la phrase :" ...ce qui est est et ne peut ne pas être ce qui est est et ne peut ne pas être ce qui est est et ne peut ne pas être ce qui ..."
est
Cette phrase en langage braille, configurée de points, est dans cette pièce, constituée de trous et non de bosses. Elle évoque le vide,le non sens,le paradoxe du langage.
"what is is and ... II" is in connection with "what is is and ... I" it is another space, in an endless sentence* that leads to the vertigo of meaning by its repetition. We can associate it with the figure of the Moëbus node.
* the sentence: "... what is is and can not be what is is and can not be what is and can not be what ..."

This sentence in braille language configured point and in this piece consisting of holes and not bumps, is supposed to evoke emptiness, nonsense, the paradox of language.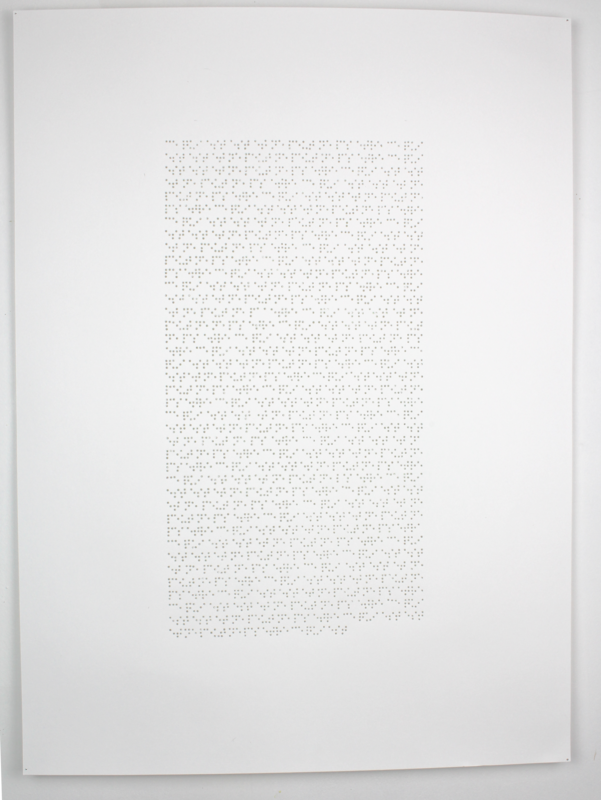 23 mars 2018
2018 / Séquence I /56x56cm / paper, color pencil, graphite
Action forte
trace d'un geste primaire
furieux
imprimé dans cet espace physique
concret - froid - distant


ne demeure que l'idée de cet acte
"il s'est passé quelque chose"
matérialité d'un vide - pourtant plein de cette action


ce qui se trace est hors-champs - hors limite
dans un espace que je ne saurai nommer


état brut

acte chorégraphié - sans filtre - sans concession

vif et puissant.
Strong action, trace of a primary gesture, furious, "printed" in a physical space, concrete cold and distant.

Only remains the idea of this action "something happened"; the materiality of this empty yet full of this action.

What happened is off-field, out of bounds, in this space that I will not know.

State of a gross of a choreographed act, without filter and concession.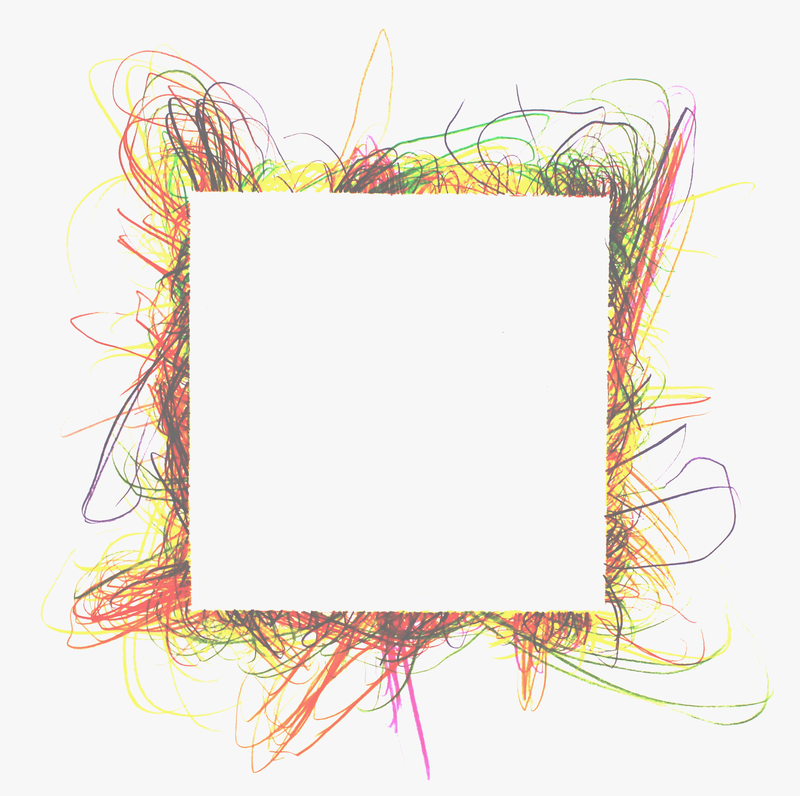 2018 / Séquence II / 56x56cm / paper, color pencil, graphite