12 avril 2018
2018 / CE QUI EST EST ET... I / 100x70cm / paper - color pencil - cut - black cotton thread - braille language
le support est considéré comme espace scénique - Il s'agit d'un acte chorégraphié -
Juste une ligne étirée dans le temps, qui se bute aux limites d'une surface imposée, créant un parcours linéaire de superpositions.

le corps n'est pas dans l'espace scénique, mais face à lui, dans une relation frontale dominante, créant dans cette posture une autre relation à l'espace, à l'échelle, au corps et à l'échange.

Une danse, presque statique, l'unique partie supérieure du corps, agit.

Ne reste que la matérialité de cette danse, son espace/temps.
the support is considered scenic space - It is a choreographed act -
Just a line stretched in time, which meets the limit of an imposed surface, creating a linear course of overlays.

the body is not in the scenic space, but in front of it, in a dominant frontal relation, creating in this posture another relation to the space, the scale, the body and the exchange.

A dance, almost static, alone, the upper part of the body acts.

Only the materiality of this dance, its space / time remains.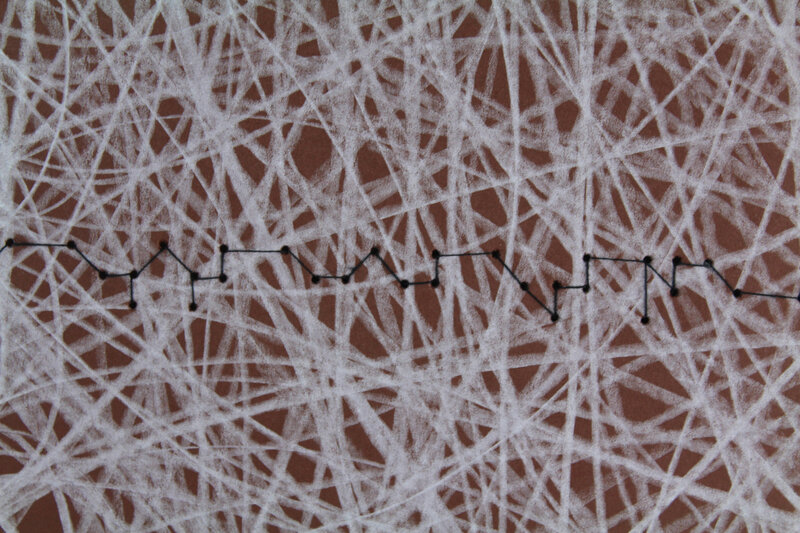 2018 / CE QUI EST EST ET... II / 76x56cm / paper - cut - braille language
"ce qui est est et ...II" est en connexion avec "ce qui est est et...I" il s'agit d'un autre espace,dans une phrase* sans fin, qui mène au vertige du sens, par sa répétition. On pourrai l'associer à la figure du noeud de Moëbus.
*la phrase :" ...ce qui est est et ne peut ne pas être ce qui est est et ne peut ne pas être ce qui est est et ne peut ne pas être ce qui ..."
est
Cette phrase en langage braille, configurée de points, est dans cette pièce, constituée de trous et non de bosses. Elle évoque le vide,le non sens,le paradoxe du langage.
"what is is and ... II" is in connection with "what is is and ... I" it is another space, in an endless sentence* that leads to the vertigo of meaning by its repetition. We can associate it with the figure of the Moëbus node.
* the sentence: "... what is is and can not be what is is and can not be what is and can not be what ..."

This sentence in braille language configured point and in this piece consisting of holes and not bumps, is supposed to evoke emptiness, nonsense, the paradox of language.