01 janvier 2015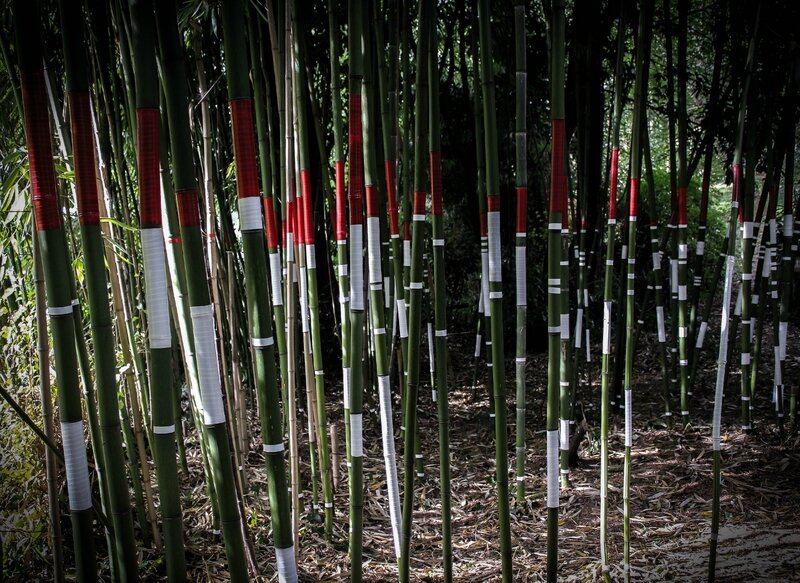 2015/Partition/installation in situ/résidence d'artiste à Corcouët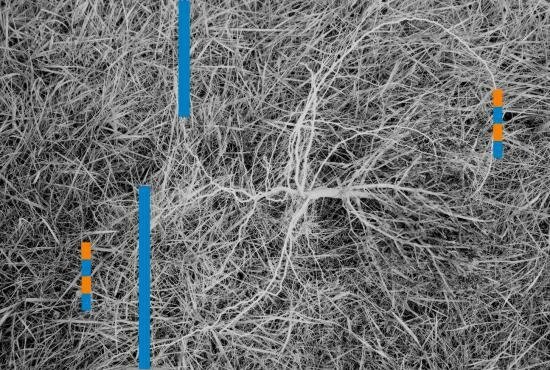 2015/Line III/drawing : version on grey cardboard with ink,graphit/120x80cm/and a other version 21X29,7/paper-photography-ink
01 janvier 2014
2014/PULSE exchange with S.Reich/100x70cm/ink-paper
2014/drawing perform exchange with J.ADAMS/paper-graphite pencil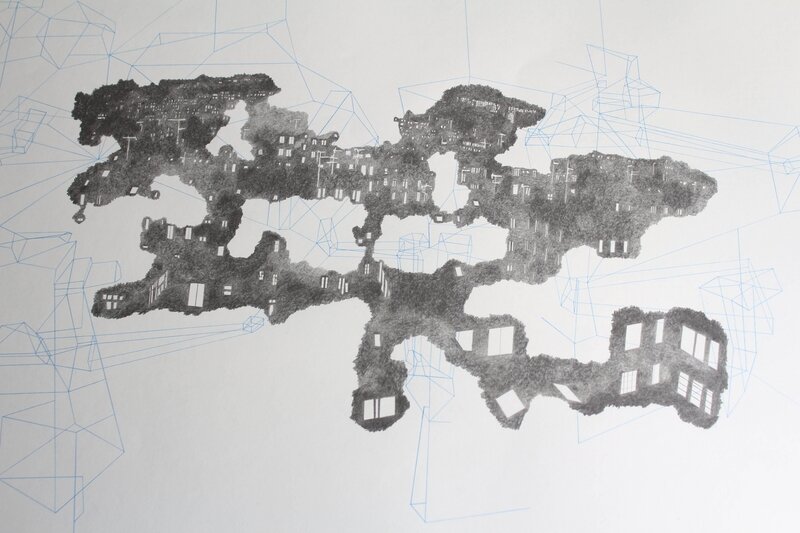 Petite
2014/PUSH ON/drawing/120x80cm/paper-graphite pencil-color pencil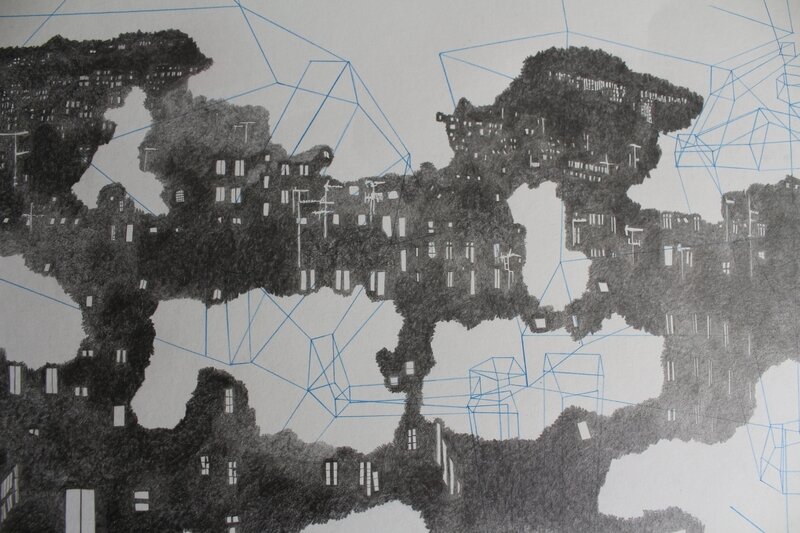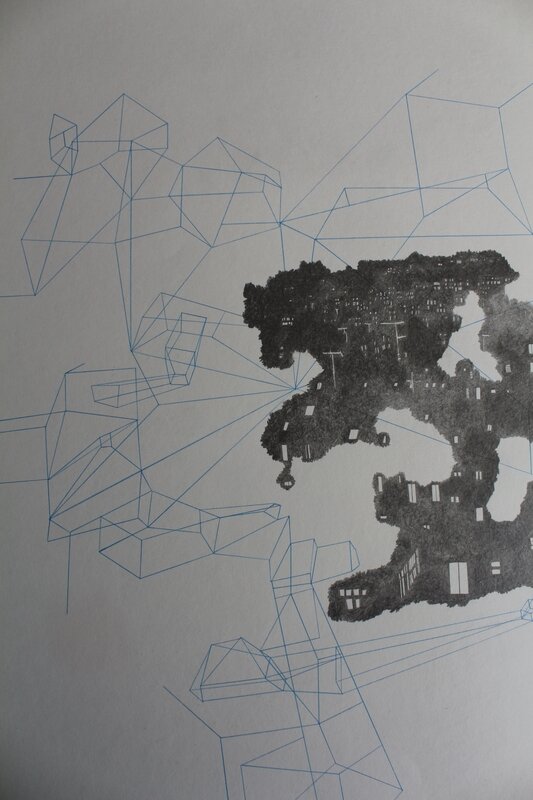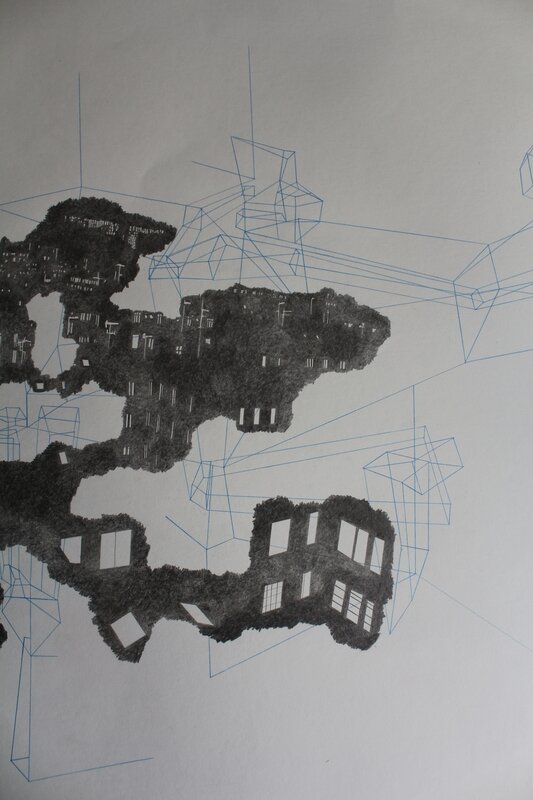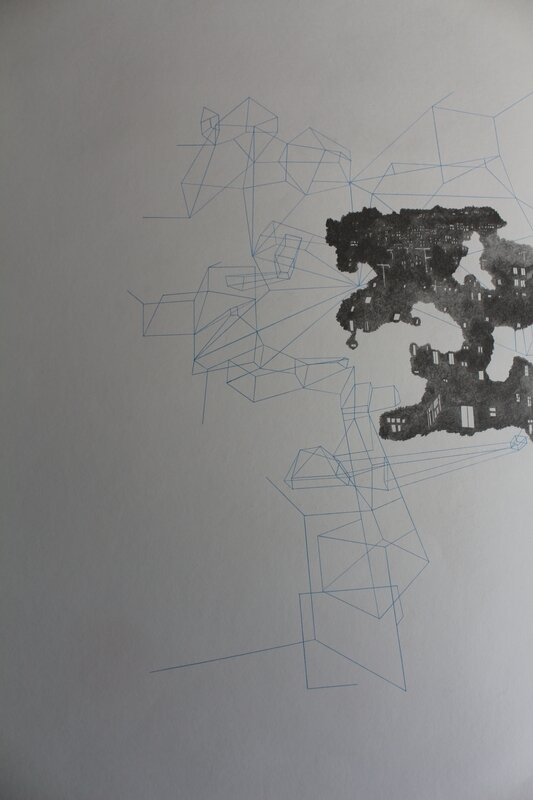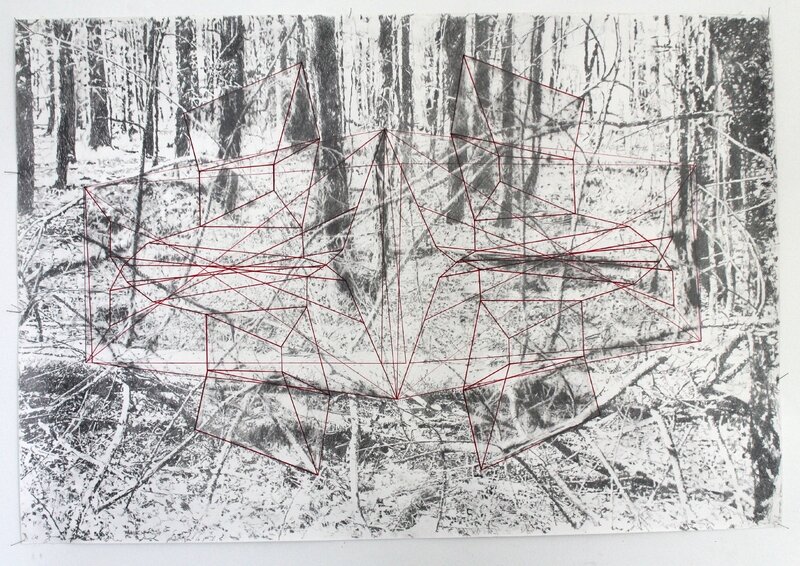 2014/ARCHELOGIA CREPUSCULE/100x70cm/drawing/graphite pencil-paper-pencil ink
2014/ARCHELOLOGIA CREPUSCULE installation/dimension variable/projection, red trip wire.

2014/drawing perform exchange with T.RILEY/128X24CM/paper,felt-tip pen,ink.

2014/Expérimental Perform/St Luce/France
01 janvier 2012
Line/Matt Donovan/2003/p.333
Line
Surface engraved with a narrow stroke, path
Imagined between two points. Of singular thickness,
a glib remark, a fragment, an unfinished phrase.
It is any one edge of a shape and its contours
in entirety.Melody arranged, a recitation,
the ways horizons are formed.Think of leveling,
snaring, the body's disposition (both in movement
and repose). It has to do with palms and creases, with rope wound tight on someone's hand, things
resembling drawn marks : a suture or a mountain ridge,
an incision, this width of light. A razor blade
at a miror, tapping out a dose, or the churn
of conveyor helts, the scoured, idling machines.
A conduit, a boundary, an exacting
course of thought. And here, the tautness
of tent stakes, earth shoveled, the depth of a trench.
01 janvier 2009
Ne pas laisser au temps
le temps de prendre ce temps
tant que je 'l'arrogance'
préserver cette intimité/proximité...
ce pour quoi elles ont été captées, extraites
fraction d'un tout

paysages innocents - presque naïfs de leurs propres existences

ils sont là

retournés comme un gant

m'interpellent sans cesse

je suis dans leurs globalités

Il semble que je trace un sillon dans 'cet espace'

nous dansons
tous deux
tous deux - un autre rythme
rester dans 'l'étant' dans le 'cequiest'
bavard comme un muet

chaque matière a son lieu

construction
association-dissociation - de sens.

l'espace tel qu'il se donne à voir - se nargue.
il nargue
toutes idées que l'on peut avoir de lui

il ne nie
pas son mensonge

il est
tantôt nœud de Möebius - tantôt Sisyphe

tantôt
jeu permanent de superpositions avec
l'infini.
une sorte de.

2009/TXT/ne pas laissez au temps/Sylou LE RHUN